A paradise for nature lovers
Paradise is what nature lovers call our place. The great outdoors with anything in abundance. Enjoy the garden-fresh food and the ultimate privacy at this place. Make yourself comfortable and find your favourite corner or maybe the next hammock to unwind.
Most welcome to our far and away location. A very calm and quiet place were we live alone and a little isolated in a traditional and authentic small sri lankan singhalese village in the neigbourhood of Monaragala.
It is located in the center of our land right next to the riverforest and there is a small waterfall just nearby. From there we are bringing the water from the stream straight to the house where it is filling up the pond. We got palmleaf roofs to both sides of the house where you have a fully open kitchen and a half open bathroom with natural rock floor.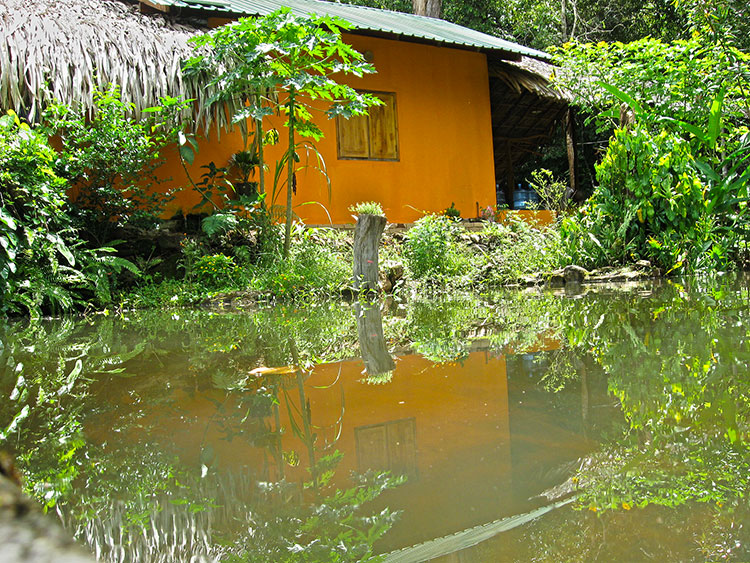 We selected the location because of the waterfall at the closeby stream and to achieve a maximum of privacy.
The house contains only one room (25m²) and offers accomodation for two guests. Attached to the room there is the bathroom (9m²) with shower and a toilet and a small entrance area, where a hammock has it's place. We build the bathroom in between a large rock and the bedroom. From the bathroom you can overlook the garden.
On the other side of the house there is a large open area (30m²) where the kitchen is build in. In addition to the large pantry we have an attached sri lankan style clay-kitchen. A fireplace where you can cook the sri lankan traditional way. Further there is a large lounge area, where two more persons could sleep.
The main room is tiled and has a high wooden ceiling.
Because of the pond and the palmleaf roof it is much cooler around the place. The adjoining forest is home to many birds and smaller animals.
Enjoy the sounds of the jungle.