Protecting Rainforest
We have 17 acres of beautiful land now! More then 2/3 of that land is natural forest, steep rocky hills, streams and just untouched nature. The riverforest can be discribed as an evergreen rainforest with large trees along it. A smaller portion (5 acres) of the land (open areas with invasive grasses only) will be turned into a fruit forest over the next years and a 1 acre vegetable garden will be set up in the office land. We are planing about 1 acre of terraced paddyfield where other grains like milet or vegetables can be grown too. That means we will use only 7 acres, while the rest remains untouched.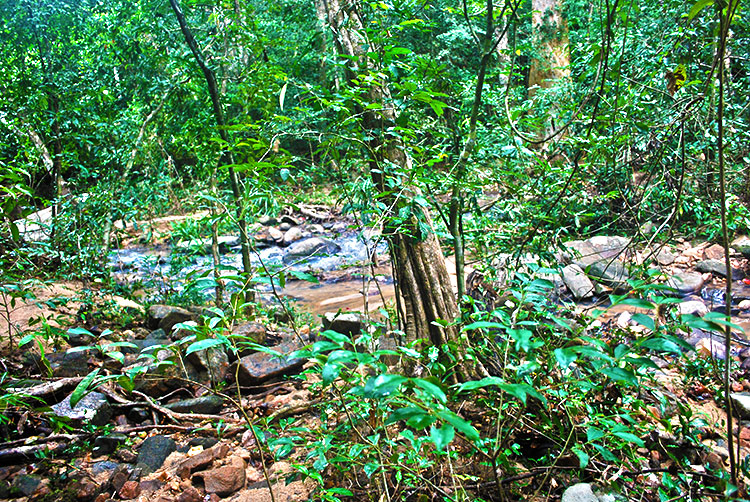 Last chance
However the development in the village is very fast and the last remaining forests are going to vanish soon. Within the next decade there will be nothing left of it. Everyting is turned into rubber plantations. We have to act soon to protect what we can. Support us with your stay and see for yourself. And if you can, help us to buy more forests. You will be surprised how cheap it is because those are "useless" wild lands for the people. They don't want animals to eat their crops and hope with clearing the last jungles to control monkeys and wild boars. They will only stop when the last animal is killed. Everybody is really happy in areas where there are no more elephants, monkeys and wild boars.
We have noticable more birds and all sorts of animals here, because we keep a part of the harvest in the trees for them. We don't sell bananas because it's not worth. Monkeys and birds give more value to our produce.
Small history of our land
In December 2008 we started with only 5 Acres. But soon we bought up another 1 acre on the other side of the north stream. That way we protected an additional 3 acres of amazing riverforest. Best example, we did not pay for the forest itself – we had to buy only all surrounding lands to isolate and therefore protect the area.
Next we bought another adjoining land, about 1 acre in the south that meant about 75m longer riverfront in the west and on top again about 1 acre of steep rocky foresthill. It took us a good fight and quiet some time to manage to protect about 2 acres of forest on the other side of that stream in the west. Actually some people from the village where going to cut down all the forest to put up a rubber plantation. In addition we got the 1 acre adjoining office land on top of our property on the other side of the dead-end road. This land we have fenced to grow pineapple, papaya and all sorts of vegetables.
Anyhow we got the chance and bought up another 3 acres including one acre of beautiful stream and forest in the south with an additional 25m strip on the other side of the stream and new great views into our valley.